WOMEN'S MONTH STORY HIGHLIGHT: Meron Estefanos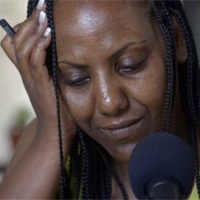 This American Life - 502: This Call May Be Recorded… To Save Your Life
In 2011, Meron Estefanos, an Eritrean-born expatriate living and working in Stockholm, Sweden, as a radio journalist and human rights activist gets a disturbing tip - a relative of a man who was kidnapped and is being tortured and held for ransom in the Sinai desert gives Estefanos a cell phone number where a group of Eritrean hostages can be reached.
She calls the number and her whole life changes.
The entire story gave me chills.
TW: rape, torture, violence, graphic language, trauma.
From TAL: Meron has set up a PayPal account to collect donations to help the families of Eritrean hostages in Sinai. To donate, go to PayPal.com and transfer to the account soscare@yahoo.com. Note that the account is not set up as an official charity.